Fait sans précédent, des universitaires, principalement états-uniens d'origine juive et israéliens dans un premier temps, mais rejoints ces dernières heures par de nombreux collègues de par le monde, appellent un chat un chat et le régime israélien un régime d'apartheid.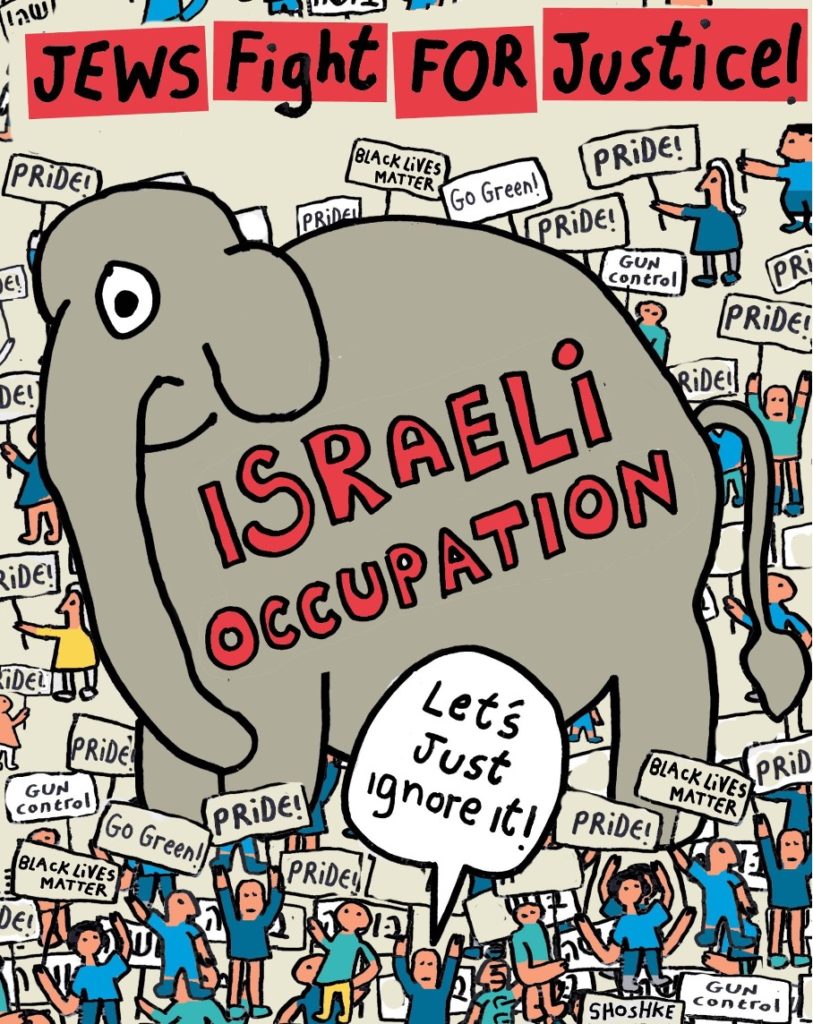 L'appel, intitulé « The Elephant in the Room" (« L'éléphant dans le salon dont personne ne veut parler »), dont nous reproduisons ci-dessous le texte et la liste des 900 premiers signataires a été lancé à la veille du dernier week-end. Il s'est transformé depuis lors en véritable déferlante.
Plusieurs des premiers signataires de l'appel sont des opposants de longue date de l'occupation, tels les Israéliens Nurit Peled et Avram Burg, ou l'Américain juif Peter Beinart.
Mais on est manifestement en présence d'une prise de conscience considérablement élargie dans les milieux universitaires, avec des signataires enseignant dans des établissements tels que Harvard, Columbia, Yale ou encore l'Université Hébraïque de Jérusalem.
Les signataires sont notamment conscients du fait que l'actuelle « réforme judiciaire » promue par Netanyahou et sa bande a pour objectif principal, au-delà de la destruction la Cour Suprême israélienne, l'aggravation de la terreur exeercée contre le peuple palestinien. Qu'on en juge par la lecture de ce document (traduit de l'anglais en français par nos soins).
« L'éléphant dans le salon dont personne ne veut parler
Nous, universitaires et autres personnes de la vie publique en Israël/Palestine et ailleurs dans le monde, attirons l'attention sur l'existence d'un lien direct entre, d'une part, les attaques récentes du gouvernement israélien visant le système judiciaire et, d'autre part, l'occupation illégale de millions de Palestiniens dans les Territoires Palestiniens Occupés (TPO)
Le peuple palestinien est quasiment privé de tous ses droits fondamentaux, que ce soit le droit de vote ou le droit de manifester. Les Palestiniens sont exposés à une violence permanente : rien que depuis le début de cette année, 190 Palestiniens de Cisjordanie et de la bande de Gaza ont été tués par les forces israéliennes, qui ont en outre démoli près de 600 structures bâties. Des colons incendient, pillent et tuent en toute impunité.
Sans l'égalité des droits pour tous, que ce soit dans le cadre d'1 État, de 2 États, ou d'un autre cadre politique, le danger de dictature est constant. Il ne peut y avoir de démocratie pour les Juifs en Israël tant que les Palestiniens subiront un régime d'apartheid, tel que l'ont décrit des juristes experts israéliens.
De fait, le but ultime de la 'réforme judiciaire' actuellement en cours est de renforcer l'étranglement de Gaza, de priver les Palestiniens de part et d'autre de la 'Ligne Verte' (les frontières d'Israël au 4 juin 1967, NDLR), d'annexer toujours plus de terres, et de procéder au nettoyage ethnique de toutes les populations palestiniennes vivant sous le joug israélien. Le problème n'est pas né avec le gouvernement extrémiste actuellement en place : le suprémacisme juif a ainsi progressé au fil des ans, et il a été sanctuarisé par l'adoption, en 2018, de la loi sur l'État-Nation.
Les Américains juifs ont souvent été aux avant-postes de combats pour la justice sociale, qu'il s'agisse de l'égalité raciale ou du droit à l'avortement. Mais ils n'ont pas fait suffisamment attention à L'Éléphant dans le salon dont personne n'ose parler : à savoir, l'occupation israélienne depuis si longtemps qui a, nous le répétons, généré le régime d'apartheid.
Alors que la droitisation d'Israël s'accentue et que son gouvernement a un agenda messianique, homophobe et misogyne, la jeunesse juive américaine s'éloigne de plus en plus de lui. Dans le même temps, on voit des milliardaires juifs financer l'extrême-droite israélienne.
En ces heures de grande urgence, mais aussi de possibilité de changement, nous appelons les dirigeants des institutions juives américaines -fondations, universitaires, rabbins, enseignants- à :
1/ Apporter leur soutien au mouvement de protestation en Israël, mais en même temps à demander à ce dernier de faire sienne la cause de l'égalité entre Juifs et Palestiniens, tant à l'intérieur de la 'Ligne Verte' que dans les Territoires Palestiniens Occupés.
2/ Apporter leur soutien aux organisations qui défendent les droits du peuple palestinien, et à éclairer l'opinion, quotidiennement, sur la réalité de la vie sous occupation et apartheid.
3/ S'engager à réévaluer les normes et programmes d'éducation des enfants et de la jeunesse juive, de manière à fournir une approche plus honnête du passé et du présent d'Israël.
4/ Enfin, à demander aux élus états-uniens qu'ils contribuent à mettre fin à l'occupation, à interdire l'emploi de l'aide militaire américaine dans les TPO, et à mettre fin à l'impunité d'Israël aux Nations-Unies et autres organisations internationales.
Il n'est plus possible de se taire. Maintenant, il faut agir.
Liste des signataires en date du mercredi 9 août
Shira Klein, Associate Professor of History, Chapman University
Omer Bartov, Professor of Holocaust and Genocide Studies, Brown University
Meir Amor, Associate Professor Concordia University (ret.)
Lior Sternfeld, Associate Professor of History and Jewish Studies, Penn State University
David N. Myers, Professor of Jewish History, UCLA
Yair Mintzker, Professor of History, Princeton University
Tamir Sorek, Professor, Penn State University
Nitzan Lebovic, Professor of History, Apter Chair of Holocaust Studies, Lehigh University
Samuel Moyn, Professor, Yale University
Amos Goldberg, Research Institute of Contemporary Jewry, the Hebrew University of Jerusalem
Zach Adam, Professor Emeritus, the Hebrew University of Jerusalem
Sarah Stroumsa, Professor Emerita, the Hebrew University of Jerusalem
Daniel Blatman, Professor Emeritus, Department of Jewish History, the Hebrew University of Jerusalem
Ella Segev, Associate Professor, the Hebrew University of Jerusalem
Ben Kiernan, Professor of History, Yale University (ret.)
Efraim Davidi, lecturer, Tel Aviv University
Yael Hashiloni Dolev, Professor, Ben-Gurion University of the Negev
Anat Matar, Senior Lecturer in Philosophy, Tel Aviv University
Dr. Noga Wolff, Independent Scholar
Omri Boehm, Associate Professor of Philosophy, The New School for Social Research
Oren Yiftachel, Professor of Geography, Ben- Gurion University of the Negev
Naama Meishar, Technion – Israeli Institute of Technology
Yael Sela, Research Associate, Moses Mendelssohn Center, Potsdam University
Yiftah Elazar, Senior Lecturer in Political Science, The Hebrew University of Jerusalem
Dudy Tzfati, Associate Professor of Genetics, The Hebrew University of Jerusalem
Ofer Ashkenazi, Associate Professor of History, The Hebrew University of Jerusalem
Sara Helman, Associate Professor, Ben Gurion University of the Negev (ret.)
Outi Bat-El Foux, Professor Emerita, Tel Aviv University
Benny Morris, Professor Emeritus, Ben-Gurion University of the Negev
Meron Mendel, Professor, Frankfurt University of Applied Sciences
Yitzhak Hen, Professor, The Hebrew University of Jerusalem
Ronen Segev, Professor, Ben Gurion University of the Negev
Uri Mor, Associate Professor, Ben-Gurion University of the Negev
Michael Steinberg, Professor of History, Brown University
Avraham Sela, Professor Emeritus, The Hebrew University of Jerusalem
Atalia Omer, Professor of Religion, Conflict, and Peace Studies, University of Notre Dame
Jung Cyrulnik Daphna, Social Worker
Alon Confino, Professor of History and Jewish Studies, UMass Amherst
Isaac Nevo, Associate Professor, Ben-Gurion University of the Negev
Raya Morag, Professor, The Hebrew University of Jerusalem
Katharina Galor, Hirschfeld Senior Lecturer in Judaic Studies, Brown University
Guy Stroumsa, Professor Emeritus, The Hebrew University of Jerusalem & University of Oxford
Dr. Tammy Razi
Yosi Avron, Professor Emeritus, Technion – Israeli Institute of Technology
Rachel Burnett, Fellow at the Y&S Nazarian Center for Israel Studies
Liora Halperin, Professor, University of Washington
Steven J. Zipperstein, Daniel E. Koshland Professor in Jewish Culture and History, Stanford University
Hanno Loewy, Jewish Museum Hohenems
Avrum Burg, Associate Professor, former speaker of the knesset, former chairman of the Jewish Agency
Abigail Jacobson, Associate Professor, The Hebrew University of Jerusalem
Susan Neiman, Director, Einstein Forum
David Enoch, Professor of Law and Philosophy, The Hebrew University of Jerusalem
Assaf Hasson, Associate Professor, Ben Gurion University of the Negev
David De Vries, Professor Emeritus, Department of Labor Studies, Tel Aviv University
Galit Hasan-Rokem, Professor Emerita, The Hebrew University of Jerusalem
Ron Naiweld, Centre National de la Recherche Scientifique – CNRS
Edouard Jurkevitch, Professor, The Hebrew University of Jerusalem
Sidra DeKoven Ezrahi, Professor Emerita, The Hebrew University of Jerusalem
David Abraham, Professor of Law, University of Miami
David Guggenheim, Associate Professor, Johns Hopkins University
Ian Balfour, Professor Emeritus, York University
David Feldman, Director, Birkbeck Institute for the Study of Antisemitism, University of London
Michael Rothberg, Professor of English, Comparative Literature, and Holocaust Studies, UCLA
Fareed Mahameed, Assistant Director, Center for Transboundary Water Management, The Arava Institute for Environmental Studies
Paul Mendes-Flohr, Professor, The University of Chicago
Iris Hefets, Psychoanalyst, Berlin
Meir Aridor, Associate Professor of Cell Biology, University of Pittsburgh
Elazar Barkan, Professor, Columbia University
Atina Grossmann, Professor of History, Cooper Union, New York
Dmitry Shumsky, Associate Professor of History, The Hebrew University of Jerusalem
Li Wai-yee, Professor of Chinese Literature, Harvard University
Nina Robins, Masters Student of Global Public Health, New York University
Hannan Hever, Professor of Jewish Studies and Comparative Literature, Yale University
Haim Bresheeth, Professorial Research Associate, SOAS
Dr. Adi Avivi
Avner Ben-Amos, Professor Emeritus, Tel-Aviv University
Oded Heilbronner, Professor of History and Cultural Studies, Hebrew University of Jerusalem
Ivy Sichel, Professor of Linguistics, UC Santa Cruz
Hilla Dayan, Lecturer, activist, Gate48 and Academia for Equality
Khalefah Alghanim, Graduate Student Researcher, UCLA
Nomi Erteschik-Shir, Professor Emerita, Ben Gurion University of the Negev
Ayelet Ben-Yishai, Associate Professor of English, Universty of Haifa
Margaret Olin, Senior Lecturer Emeritus, Yale University
Jacob Katriel, Professor Emeritus of Chemistry, Technion – Israeli Institute of Technology
Yuval Tal, Assistant Professor, The Hebrew University of Jerusalem
Stefan Rokem, Professor Emeritus, The Hebrew University – Hadassah Medical School
Heather Stone, Adv.
Uri Horesh, Senior Lecturer in Arabic Linguistics, Achva Academic College
Ariel Chipman, Professor of Evolutionary Biology, The Hebrew University of Jerusalem
Lev Grinberg, Professor Emeritus, Ben Gurion University of the Negev
Arie M. Dubnov, Max Ticktin Professor of Israel Studies and History, George Washington University
Aaron Hahn Tapper, Mae and Benjamin Swig Professor of Jewish Studies, University of San Francisco
Yael Poznanski, Senior Lecturer, Achva Academic College
Oded Bein, Postdoctoral Researcher, Princeton University
Tamar Katriel, Professor Emerita, University of Haifa
Tal Bruttmann, Researcher, Paris Cergy Université
Marcello Flores, Professor, University of Siena (ret.)
Nurit Peled Elhanan, Lecturer, David Yellin Academic College of Education
Rela Mazali, Writer, Independent Scholar, Activist
Daniel Lieberman, Professor, Harvard University
Froma Zeitlin, Professor Emeritus of Classics and Comparative Literature, Princeton University
Adi M. Ophir, Professor Emeritus, Tel Aviv University
Hasia Diner, Professor Emeritus of American Jewish History, New York University
David Zonsheine, Former chairperson of B'Tselem and Courage to Refuse
Dr. Sigal Yawetz, Assistant Professor of Medicine, Harvard Medical School
Dr. Dan Eshet, Salem State University
Yuri Pines, Professor, The Hebrew University of Jerusalem
Avigail Arnheim, Musical Director
Dr. Theodor Bughici
Robert A. Slayton, Professor Emeritus, Chapman University
Diana Kormos Buchwald, Professor of History, Caltech
Ronald Zweig, Taub Professor of Israel Studies (Emeritus), New York University
Itzik Goldberger, Adjunct Professor, Saint Mary's College
David M. Mittelman, Assistant Professor of Portuguese, United States Air Force Academy (personal speech, not a statement on behalf of the U.S. Government or any agency)
Yael Niv, Professor of Psychology and Neuroscience, Princeton University
Ze'ev Rosenkranz, Senior Editor, California Institute of Technology
Eyal Landman, Architect and Masters Student, Bezalel Academy of Arts and Design
Hannah Safran, Haifa Feminist Research Center
Bennett Simon, Clinical Professor of Psychiatry, Emeritus, Harvard University
Marion Kaplan, Professor Emerita of Modern Jewish History, New York University
Dr. Ira Avneri, Tel Aviv University and the Hebrew University of Jerusalem
Renee Poznanski, Professor Emerita, Ben Gurion University of the Negev
Mark Roseman, Distinguished Professor, Indiana University Bloomington
Lawrence Baron, Emeritus Professor, San Diego State University
Joseph Zernik, Human Rights Alert NGO
Ran Zwigenberg, Associate Professor of Asian Studies, History, and Jewish Studies, Penn State University
Phyllis Albert, Local Affiliate, Center for European Studies. Harvard University
Allon M Klein, Associate Professor, Harvard Medical School
Einor Cervone, Associate Curator, Denver Art Museum
Anjuska Weil, former member of parliament, Canton of Zurich
Ranen Omer-Sherman, Endowed Chair of Jewish Studies, University of Louisville
Yair Wallach, Reader in Israeli Studies, SOAS, University of London
Ron Barkai, Professor, Tel Aviv University
Rogers Brubaker, Professor of Sociology, UCLA
Liron Mor, Associate Professor, UC Irvine
Mordechai Feingold, Van Nuys Page Professor of History of Science and the Humanities, Caltech
Roberta Apfel, Associate Professor, Harvard Medical School
Judith Zeitlin, William R. Kenan, Jr Professor, University of Chicago
Carolyn Dean, Professor, Yale University
Kenneth B. Moss, Professor, University of Chicago
Helaine Blumenthal, Ph.D.
Ziva Galili, Emerita Distinguished Professor, Rutgers University
Nili Gesser, Postdoctoral Fellow, Drexel University
Ian Barnard, Professor of Rhetoric and Composition, Chapman University
Shaul Magid, Professor of Jewish Studies, Dartmouth College
Aneil Rallin, former Associate Professor of Rhetoric and Composition
Hagit Borer, Professor, Queen Mary University of London
Tamar Barkay, Lecturer, Tel Hai College
Avner Cohen, Professor, Middlebury Institute of International Studies at Monterey
Renate Bridenthal, Emerita Professor, The City University of New York
Nadav Amir, postdoctoral fellow, Princeton University
Eyal Sivan, Filmmaker, Independent scholar, essayist
Omer Tamuz, Professor of Economics and Mathematics, Caltech
Ruvik Horesh, Professor (retired)
Dr. Liat Tsuman, Psychoanalytic Candidate, New York University
Zamir Shatz, artist
Reshef Agam-Segal, Associate Professor, Virginia Military Institute
Wu Hung, Professor, University of Chicago
Ori Yehudai, Associate Professor of History, The Ohio State University
Snait Gissis, Researcher & Teacher, Tel Aviv University
Teddy Fassberg, Tel Aviv University
Dr Moshe Behar, Herzlia/Manchester
Lisa Leitz, Delp-Wilkinson Professor of Peace Studies, Chapman University
Sahar Bostock, PhD candidate, Columbia University
Nomi Stolzenberg, Professor of Law, University of Southern California
Janice Hamer, composer, Visiting Associate Professor, Swarthmore College (retired)
Derek Penslar, William Lee Frost Professor of Jewish History, Harvard University
Sherry Gorelick, Professor Emerita, Rutgers University
Ariela Gross, Distinguished Professor, UCLA School of Law
Mira Sucharov, Professor of Political Science, Carleton University
Katya Frischer, MD
Irena Klepfisz, Barnard College, (retired)
J.S.Varsano, Doctor of Veterinary Medicine
Ruti Margalit, Visiting Professor, Hadassah Medical School, The Hebrew University of Jerusalem
Amanda Bloom, Physician Associate (retired)
Allon Pratt, Teacher, Jewish Theological Seminary (retired)
Shai Haran, Professor, Technion – Israeli Institute of Technology
Orly Benjamin, Professor, Bar Ilan University
Aviva Halamish, Professor, The Open University of Israel
Yofi Tirosh, Associate Professor, Faculty of Law, Tel Aviv University
Rachel Zelnick-Abramovitz, Professor, Tel Aviv University (retired)
Avi Rubin, Associate Professor, Ben-Gurion University of the Negev
Daniel DeMalach, Lecturer, Sapir Academic College
Gila Svirsky, Former CEO, New Israel Fund in Israel
Rivka Nir Grinshtein, Lecturer, The Open University of Israel
Haggai Ram, Professor of History, Ben-Gurion University of the Negev
Elchanan Reiner, Professor Emeritus, Tel Aviv University
Harvey Goldberg, Professor Emeritus, The Hebrew University of Jerusalem
Rotem Tellem MD, Tel Aviv Medical Center, Tel Aviv University
Frances Tanzer, Rose Professor of Holocaust Studies and Jewish Culture, Clark University
Rotem Geva, Lecturer, The Hebrew University of Jerusalem
Avihay Dorfman, Professor of Law, Tel Aviv University
Gilad Sharvit, Assistant Professor, Towson University
Rachman Chaim, Associate Professor, Technion – Israeli Institute of Technology (retired)
Celia Wasserstein Fassberg, Professor Emerita, The Hebrew University of Jerusalem
Amal Jamal, Associate Professor of Political Science, Tel Aviv University
Shiri Regev-Messalem, Associate Professor, Bar Ilan University
Chana Kronfeld, Professor of the Graduate School and Prof. Emerita, University of California, Berkeley
Anat Ascher, Lecturer and Course Coordinator in Philosophy, The Open University of Israel
Roee Kibrik, Researcher, The Hebrew University of Jerusalem
Anat Keidar, Social Worker
Natalie Davidson, Senior Lecturer, Buchman Faculty of Law, Tel Aviv University
Dr. Chemi Shiff, Head of Research, Emek Shaveh
Efrat Eizenberg, Associate Professor, Technion – Israeli Institute of Technology
Maxim Reider, Journalist/Photographer
Goren Hilit, Psychologist
Orr Comay, PhD, Tel Aviv University
Claude Stern, Lawyer, former Stanford DCI 2020 cohort member
Dr. Suzy Ben Dori
Gina Ben David, Performance Artist
Dr. Chen Misgav, The Open University of Israel
Yoav Di-Capua, Professor of History, The University of Texas at Austin
Mr. Gilad Melzer, Beit Berl College
Maayan Padan, PhD Student, Bar Ilan University, Adjunct Lecturer, Ben-Gurion University of the Negev
Jennifer Robertson, Professor Emerita, University of Michigan
Yehouda Shenhav-Shahrabani, Professor Emeritus, Tel Aviv University
Alma Itzhaky, research fellow, Leibniz Center for Literary and Cultural Research, ZfL Berlin
Itamar Haritan, PhD Student, Cornell University
Amnon Raz-Krakotzkin, Professor, Ben-Gurion University of the Negev
Sagit Mor, Associate Professor, Faculty of Law, University of Haifa
Rachel Kallus, Professor Emerita, Technion – Israeli Institute of Technology
Ophira Gamliel, Lecturer in South Asian Religions, University of Glasgow
Alon Marcus, Teaching faculty member, The Open University of Israel
Ido Roll, Associate Professor and Deputy Senior Vice President, Technion – Israeli Institute of Technology
Erica Weitzman, Associate Professor, Northwestern University
Simon Levis-Sullam, Ca' Foscari University of Venice
Raz Chen Morris, Associate Professor, The Hebrew University of Jerusalem
Chen Bram, Research Fellow, Truman Institute, The Hebrew University of Jerusalem
Matityaho Shemoeloff, Author and poet
Gideon Freudenthal, Professor Emeritus, Tel Aviv University
Uri Ram, Professor Emeritus, Ben-Gurion University of the Negev
Roii Ball, Historian, University of Münster
Edith Lutz, PhD in Jewish Studies
David Winizki, MD, Zürich
Marcelo Svirsky, University of Wollongong, Australia
Chamutal Eitam, Humanitarian advisor MSF – Médecins Sans Frontières
Michal Kaiser-Livne, Psychoanalyst, Berlin
Na'ama Rokem, Associate Professor, University of Chicago
Jenna M Gibbs, Associate Professor of History, Florida International University
Ruth Luschnat, case worker, Berlin
Rafi Greenberg, Professor, Archaeology, Tel Aviv University
Jeff Peck, Professor and Dean, City University of New York (retired)
Eran Fisher, Associate Professor, The Open University of Israel
Ruth Fruchtman, Writer and Journalist, Berlin
Leah Gruenpeter Gold, PhD candidate, Tel-Aviv University
Jonathan Zeitlin, Distinguished Faculty Professor of Public Policy and Governance Emeritus, University of Amsterdam
Dr. David Senesh, senior clinical psychologist
Betty Amstutz Gerson, teacher and writer (retired)
Hadas Shintel, Lecturer in Psychology, College of Law and Business, Ramat Gan
Yossi Dahan, Associate Professor, College of Law and Business, Ramat Gan
Miriam Victory Spiegel, Family Therapist, Zürich
Yoav Beirach, Post-Doctoral Research Fellow, Technion – Israel Institute of Technology
Jeffrey B Cooper, Professor Emeritus, Harvard Medical School
Hadassah Danit O'Reilly, Independent Scholar of Holocaust and Genocide
Naomi Tauber, Clinical psychologist
Patrick Barnard, Journalist
Chiara Adorisio, Associate Professor of Philosophical Anthropology, La Sapienza University
Shaul Mitelpunkt, Department of History, University of York
Nadav Assor, Associate Professor of Art, Connecticut College
Dorit Peleg, writer
Hagar Dror Maliniek, Clinical Psychologist
Naomi Weiner, Professor, David Yellin Academic College
Amir Locker-Biletzki, Independent Scholar
Paul Osman, Associate Professor, Harvard University
Kobi Peterzil, Professor, University of Haifa
Geri Müller, President, Association Swiss Palestine, Baden, Switzerland
Lily Koliner, PhD student, The Hebrew University of Jerusalem
Sharon Peled, Candidate, The Institute For Psychoanalytic Training And Research, NY
Dr. Lia Eshet, Family physician
Jill Hamberg, Retired Assistant Professor, State University of New York, Empire State University
Ian Lustick, Bess W. Heyman Professor Emeritus, University of Pennsylvania
Tahel Gover, Academic Librarian, University of Haifa
Hadar Ahuvia, Choreographer, Rabbinical Student, Hebrew College
Robert Cohen, Writer
Nira Yuval-Davis, Professor Emeritus, University of East London
Neta Stahl, Associate Professor, Johns Hopkins University
Sasha Senderovich, Associate Professor of Slavic and Jewish Studies, University of Washington Seattle
Helena Desivilya Syna, Professor Emerita, Yezreel Valley College
Aram Ziai, Professor in Political Science, University of Kassel
Dan W Wasserman, Graduate student, Bar-Ilan University
Yanay Israeli, Assistant Professor, University of Michigan
Michael Stanislawski, Nathan J. Miller Professor of History, Columbia University
Clement Segal, Middle-Eastern Studies, Science Po Grenoble
Barry Cohen, Associate Dean, Ying Wu College of Computing, New Jersey Institute of Technology (retired)
Tova Benjamin, PhD Candidate, New York University
Vanessa Tor, Theater Director
Mikhal Dekel, Distinguished Professor, City College of New York
John P Pittman, Associate Professor, John Jay College of Criminal Justice, City University of New York
Joshua Schreier, Professor of History, Vassar College
Susan Shapiro, Associate Professor, University of Massachusetts Amherst
Alana M. Vincent, Associate Professor, History of Religion, Umeå University
Joshua Shanes, Professor, College of Charleston
Michael G Levine, Professor, Rutgers University
Allison Mickel, Associate Professor of Anthropology, Lehigh University
Jonathan Buchsbaum, Professor Emeritus, Media Studies, Queens College, City University of New York
Dan Simon, Professor of Law and Psychology, University of Southern California
Avner Baz, Professor, Tufts University
Mordehai Amihai Bivas, Ambassador (retired)
David Haig, Professor, Harvard University
Rachel Kapeliuk Azgad, Psychoanalyst
Avivit Ballas Baranes, Artist and Lecturer
Clifford Kulwin, Rabbi Emeritus, Temple B'nai Abraham, Livingston, NJ
Dor Yaccobi, PhD Candidate, Tel Aviv University
Nathaniel Berman, Professor, Religious Studies, Brown University
Sam Fleischacker, LAS Distinguished Professor, University of Illinois at Chicago
Avner Wishnitzer, Professor of Middle Eastern History, Tel Aviv University
Vardit Rispler-Chaim, Associate Professor, University of Haifa (retired)
Anita Bardin, Director, Shiluv Family Therapy Institute (retired)
Philip Prinz, Professor Emeritus, San Francisco State University
Dr. Einat Davidi, Senior Lecturer, University of Haifa
Rivka Ribak, Associate Professor, Department of Communication, University of Haifa
Dr. Lian Malki-Schubert
Joy Ladin, Writer and teacher
Margaret Schabas, Fellow of the Royal Society of Canada, Professor, University of British Columbia
Robert Weinberg, Professor of History, Swarthmore College
Gal Gvili, Associate Professor, McGill University
Tamar Shochat, Professor, University of Haifa
Nora North, NYC Department of Education (retired)
Anat Prior, Associate Professor, Faculty of Education, University of Haifa
Frances Geteles, Professor Emerita, City College, NY
Anna Gutgarts, Research Member, University of Haifa
David Hall, Illustrator
Edna Gorney, Lecturer, Haifa University (retired)
Alan Tansman, Professor, University of California, Berkeley
Paula Varsano, Professor, University of California, Berkeley
Dr Yohai Hakak, Senior Lecturer, Brunel University London
Michael Sfard, Human Rights Lawyer
Ayla Matalon, Former Lecturer, Technion MBA Program
Linda Dirtmar, Professor Emerita, University of Massachusetts
Pamela Burdman, Executive Director, Just Equations
Dorit Avnir, Doctor of Arts, Art Therapist
Ruth Ben-Artzi, Associate Professor of Political Science, Providence College
Pini Herman, Past Research Associate Professor, University of Southern California
Rawia Aburabia, Assistant Professor of Law, Sapir Academic College
Danny Rubinstein, Journalist and author
Dorit Barchana-Lorand, Kibbutzim College of Education and the Arts
Naftali Kaminski, Professor of Medicine, Yale University
Natasha Gordinsky, Senior lecturer, University of Haifa
Brigitte Hahn, Technion-Israel Institute of Technology
Shelley Berlowitz, PhD, Alumna University of Konstanz
Zur Shalev, Professor, University of Haifa
Sheer Ganor, Assistant Professor, University of Minnesota, Twin Cities
Leon Duveen, Chair Lib Dems (UK) for Peace in the Middle East
Elisabeth Goldwyn, Professor, Haifa University
Patrick Macklem, Professor Emeritus of Law, University of Toronto
Shir Alon, Assistant professor, the University of Minnesota
Ori Goldbergת Assistanא Professor, Reichman University
Nadje Al-Ali, Professor of Anthropology and Middle East Studies, Watson Institute for International & Public Affairs
Marc Caplan, (APL) Professor, Heinrich-Heine University
Batja P. Guggenheim-Ami, Professor emeritus, FHSG St.Gall Switzerland
Menachem Elimelech, Professor, Yale University
Laura Levitt, Professor of Religion, Jewish Studies, and Gender, Temple University
Moshe Zuckermann, Professor of History and Philosophy, Tel Aviv University
Alessandro Treves, Professor, SISSA, Trieste
David Blanc, Professor of Mathematics, University of Haifa
Jeremiah Riemer, former Associate Professor, Johns Hopkins School of Advanced International Studies
Edy Kaufman, Professor, M.A. Peace and Conflict Management, University of Haifa
Elly Levy, Attorney
Mark Fichman, Associate Professor Emeritus, Carnegie Mellon University
Cara Rock-Singer, Assistant Professor, UW Madison
Iris Kaminski, Environmental Scientist, New Haven
Michael Hiller, Former board member, Grundrechtekomitee (Committee for Basic Rights)
Andras Hamori, Professor Emeritus, Princeton University
Sandro Ventura, Psychiatrist
A. Kedem, PhD student, Hifa University
Seth Schwartz, Professor of History and Classics, Columbia University
Ellen Weiss, Children's book author
Nir Friedman, Professor, The Hebrew University of Jerusalem
Steve Fassberg, Professor of Hebrew Language, The Hebrew University of Jerusalem
Amos Laor, Labor union lawyer
Dennis Jett, Professor, Penn State University
Benny Miller, Professor of International Relations, Haifa University
Itamar Shachar, Assistant Professor of Sociology, Hasselt University
Or Simovitch, Arts Educator
Ran Shauli, Faculty member, Bar Ilan University
Marcos Silber, Associate Professor, Department of Jewish History, University of Haifa
Alice Robinson, Psychotherapist
Israel Charny, Professor of Psychology Hebrew University (retired)
Uri Amir Koren, PhD student, Rutgers University
Itamar Kastner, Senior Lecturer, University of Edinburgh
Gil Gambash, Professor, University of Haifa
Mark Siegel, Professor, Yale University
Richard Strier, Professor Emeritus, University of Chicago
Sigall Horovitz, Faculty of Law, Hebrew University of Jerusalem
Candice Breitz, Professor, HBK Braunschweig, Germany
Mabel Stilman Kolesas, Librarian
Ram Reshef, Senior lecturer, University of Haifa
Dr. Barbara Landau, Lawyer, Psychologist, Mediator, Co-founder J-Link International Network & Co-Chair Canadian Association of Jews and Muslims
Baruch Eitam, Associate Professor, University of Haifa
Marianne Hirschberg, Professor, Faculty of Human Sciences, University of Kassel, Germany
Claire Bergen, Rabbinic Student, International Institute for Secular Humanistic Judaism
Sandra Meiri, Senior Lecturer Emerita, The Open University of Israel
Zackary Berger, Associate Professor of Medicine, Johns Hopkins School of Medicine, Core Faculty, Johns Hopkins Berman Institute of Bioethics
Igal Ezraty, Jaffa Theatre Director
Michal Kofman, Associate Professor (Term) of sociology, University of Louisville
Avraham Oz, Professor, University of Haifa
Jacob Nissim, Adv.
Sima Godfrey, Associate Professor Emerita, University of British Columbia
David Harel, Professor, The Weizmann Institute, and President, Israel Academy of Sciences and Humanities
Rabbi Chaim Seidler-Feller, UCLA
Enzo Traverso, Professor of History and Romance Studies, Cornell University
Richard Levy, Labor and Civil Rights Attorney
Andrew F. Jones, Professor of Chinese, University of California, Berkeley
James Young, Distinguished Professor Emeritus, University of Massachusetts Amherst
Merav Amir, Senior Lecturer of Human Geography, Queen's University Belfast
Umit Kurt, Professor, University of Newcastle
Michelle Shwartz, Teacher (retired)
Kenneth Kotovsky, Professor Emeritus, Carnegie Mellon University
Paul Scham, Associate Research Professor, University of Maryland
Y. L. Al-Sheikh, Palestinian-American Member of Democratic Socialists of America
Nell Hirschmann-Levy, Esq., lawyer
Joel Beinin, Donald J. Mclachlan Profesor of History, Emeritus, Stanford University
Sheryl Nestel, Affiliated Scholar, New College, University of Toronto
Mical Raz, Professor of History and Clinical Medicine, University of Rochester
Max Finkel, Masters of Israel Studies, Brooklyn Law School
Ariel Katz, Associate Professor, Faculty of Law, University of Toronto
Max Lahn, PhD Student, University of Michigan
Sara Roy, Center For Middle Eastern Studies, Harvard University
Sadu Nanjundiah, Professor of Physics, Chaudhary Charan Singh University
Martha Schoolman, Associate Professor of English, Florida International University
Lawrence Davidson, Professor Emeritus, West Chester University
Audrey Macklin, Professor of Law, University of Toronto
Cedric Cohen-Skalli, Senior Lecturer, The University of Haifa
Schneur Newfield, Assistant Professor, Borough of Manhattan Community College, City University of New York
Miriam Zucker, Researcher, Adjunct Professor, York University
Dr. Andrea Siegel, Jewish Studies Scholar, Chaplain, Psychotherapist
Ruth Fallenbaum, PhD
Yaron Klein, Associate Professor, Carleton College
Ido Bermanis, DMD
Dorothy Burlage, Clinical Psychologist
Melissa F. Weiner, Professor Of Sociology, College of The Holy Cross
Marcia Newfield, Adjunct Lecturer, Professional Staff Congress, City University of New York (retired)
Nancy Burke, Core Faculty, Past President, Chicago Center for Psychoanalysis
Deborah Dwork, Director Of The Center For The Study of The Holocaust, Genocide, And Crimes Against Humanity, Graduate Center—City University of New York
Ayalah Shapiro Bivas, Psychoanalyst, Contemporary Freudian Society
Dr. Orna Kenan, Lecturer, UCLA (retired)
Deborah Cowen, Professor, University of Toronto
Sherman Teichman, Founding Executive Director Emeritus, Institute for Global Leadership, Tufts University
Mauro Saccol, PhD, University of Genoa
Jeremy Ginges, Professor, London School of Economics And Political Science
Yulia Gilich, PhD
Zachary Braiterman, Professor, Syracuse University
Marc Gopin, James Laue Professor, George Mason University
Yaakov Lipsker, PhD Candidate, Jewish Theological Seminary
Yoav Duman, Professor, Green River College
Sirmichael T. Cianci, Research Fellow, Johns Hopkins University SAIS
Nir Arielli, Associate Professor, University of Leeds
Menashe Anzi, Professor, Ben-Gurion University
Karin Loevy, manager JSD Program at New York University School of Law, Researcher at the Institute for International Law and Justice, New York University School of Law
Alma Ganihar, Writer
Samir L. Iranee, MBA, Sprachen-Unidozent In Frankfurt Am Main
Henry Reichman, Professor Emeritus of History, California State University, East Bay
Revital Madar, Research Fellow, European University Institute
Dana Arieli, Professor, Holon Institute of Technology
Oded Ezer, Professor, Design Faculty, Holon Institute of Technology
Emily Sun, Associate Professor, Barnard College
Anat Katsir, Professor, Bezalel Academy of Arts & Design Jerusalem
Hazem Malhas, Engineer and Activist in Protecting Natural and Human Heritage
Yoav Shemer-Kunz, PhD, Political Scientist, University of Strasbourg
Tal Nahari, PhD Student, The Hebrew University of Jerusalem
Avinoam J. Stillman, Doctoral Candidate, Freie Universität Berlin, Founding Editor of Blima Books
Willi Goetschel, Professor, University of Toronto
Dr. Shlomi Ravid, Executive Director, The Center for Jewish Peoplehood Education
Motti Regev, Professor, The Open University of Israel
Ido Nahari, Editor, Arts of The Working Class
Gaby Belz, Founding Member, Jewish Voice for Democracy and Justice In Israel/Palestine
Gwyn Daniel, Psychotherapist and Trainer
Jonathan Preminger, Faculty, Cardiff University
Elad Lapidot, Professor, The University of Lille
Ilan Pappe, Professor, University of Exeter, UK
Nora Rubel, Associate Professor, University of Rochester
Stav Zeitouni, Doctoral student, New York University
Amnon Beeri-Sulitzeanu, CO-CEO, The Abraham Initiatives
Avner Giladi, Professor Emeritus, University of Haifa
Brooke Maddux, PhD Candidate, Université de Reims, France
Carola Mathers, Jungian Analyst
David Bollag, MD
Avi Shlaim, Professor Emeritus, The University of Oxford
Clea McNeely, Research Professor, University of Tennessee
Jochi Weil-Goldstein, Ina Autra Senda – Swiss Friends of Combatants for Peace
Hadas Reshef, PhD Student, Freie Universität Berlin
Rabbi Jeanette Friedman Sieradski, Publisher, The Wordsmithy LLC.
Larisa Fialkova, Associate Professor, Dept. of Hebrew and Comparative Literature, University of Haifa
Nerina Cecchin, PhD
Yonatan Sagiv, Research Associate, SOAS University, London
Steven Knoblauch, Adjunct Associate Clinical Professor, New York University Postdoctoral Program in Psychotherapy and Psychoanalysis
Yaudat Mustafa, Professional Engineer
Eleanor Roffman, Professor Emerita, Lesley University
Rivka Jaussi, Poetess
Guy Levi, Learning Innovation Expert
Mardge Cohen MD, Boston Health Care for the Homeless Program
Marina Calculli, PhD, Columbia University and Leiden University
Gilad Halpern, Journalist, Broadcaster, Media Historian
Dallas R. Scouton, PhD, Brandeis University
Ofer Tur-Sinai, Senior Lecturer, Faculty of Law, Ono Academic College
Derek Brian Gripper, Artist, Researcher, Lecturer of Maths Education
Nadia Zeldes, Senior Researcher, Ben-Gurion University of the Negev
Miryam Segal, Associate Professor, Queens College and the City University of New York Graduate Center
Dror Feiler, Chairperson for European Jews for a Just Peace
Suzanne Kallala, Lecturer, College of North West London
Charles Weed, Professor Emeritus, Keene State College
Amira Katz, Faculty Emeritus of the Department of Asian Studies, Hebrew University of Jerusalem
Shachar Pinsker, Professor, University of Michigan
Phyllis Ewen, Artist
Jan Gross, Professor of History Emeritus, Princeton University
Rebecca Lesses, Associate Professor of Jewish Studies, Ithaca College
Dirk Moses, Professor, City College of New York
Elizabeth Berger MD, Associate Clinical Professor, George Washington University
Antony Lerman, Senior Fellow, Bruno Kreisky Forum for International Dialogue
Liat Naeh, Academic and Writer
Rochelle Tobias, Professor of German, Johns Hopkins University
Peter Rachleff, East Side Freedom Library
Ofer Shinar Levanon, PhD
David Rohrlich, Professor, Boston University
Paul Cotton, Physician (retired)
Ghislaine Boulanger, Psychologist and Psychoanalyst
Arturo Marzano, Associate Professor, University of Pisa
Dov Waxman, Rosalinde and Arthur Gilbert Foundation Professor of Israel Studies, UCLA
David Laibman, Professor Emeritus of Economics, Brooklyn College and City University of New York
Aryeh Cohen, Professor, American Jewish University
Jerome Bourdon, Professor, Tel Aviv University
Shana Sippy, Associate Professor of Religion, Centre College
Judith Gerson, Professor Emerita, Rutgers University
Michal Aviad, Professor, Tel Aviv University
Rabbi Michal Morris Kamil, Community Rabbi
David Biale, Distinguished Professor Emeritus, UC Davis
Ezequiel Kopel, Journalist and Author
Magali Sarfatti Larson, Professor Emerita of Sociology, Temple University
Miriam Eliav-Feldon, Professor, Tel Aviv University
Irene Gendzier, Professor, Boston University (retired)
Orli Avi-Yonah, PhD, Lecturer on Psychiatry, Harvard Medical School
Jordan Pollack, Professor, Brandeis University
Nitsan Chorev, Professor of Sociology and International and Public Affairs, Brown University
Teresa Bailey, Consultant and Child and Adolescent Psychotherapist
Karen Klein MD, Physician
Nancy Stern, Professor, City College of New York, City University of New York
Elsa Auerbach, Professor Emerita, University of Massachusetts Boston
David Wakstein, Artist
Galit Weidman Sassoon, PhD
Leah Cohen, Barrett Professor of Creative Writing, College of the Holy Cross
Osvaldo Golijov, Professor of Music, College of the Holy Cross
Anna Koch, Teaching Fellow, School of Slavonic and East European Studies, University College London
Dana Grabelsky, Doctoral Candidate in Philosophy, City University of New York Graduate Center
Yitzhak Melamed, Professor of Philosophy, Johns Hopkins University
Irwin Ford Rosenfarb, Professor, Alliant International University
Amy Pett, PhD
Joshua Gritz, Graduate Architecture Student, Parsons School of Design
Hannah Pollin-Galay, Senior Lecturer, Tel Aviv University
Kevin Avruch, Professor Emeritus, George Mason University
Alexander Elinson, Associate Professor, Hunter College, City University of New York
Michelle Golden, Special Educator
Ella Levitt, Independent Art Theorist
Maya Herman, Sociology PhD Student, New School for Social Research
Adele Diamond, Canada Research Chair Tier 1 and Professor, University of British Columbia
Marianne Hirsch, Professor Emerita, Columbia University
Anna Bikont, Writer
Hagar Salamon, Professor, Hebrew University of Jerusalem
Diane L. Wolf, Professor Emerita of Sociology, UC Davis
John Torpey, Presidential Professor of Sociology and History, Graduate Center, City University of New York
Ben Ratskoff, Assistant Professor of Modern Jewish History and Culture, Hebrew Union College-Jewish Institute of Religion
Jean-Marc Dreyfus, Professor, The University of Manchester (UK)
Christine Pagnoulle, Honorary Senior Lecturer, the University of Liège
Michael Meranze, Professor of History, UCLA
Benjamin Carter Hett, Professor of History, Hunter College and the Graduate Center, City University of New York
Anna Hájková, Associate Professor, University of Warwick
Helen Deutsch, Professor of English, UCLA
Galand Pierre, Professor of Universités ULB (retired)
Sander Gilman, Professor Emeritus, Emory University
Dr. Michele Klein, Independent Scholar
Noah Asher Golden, Associate Professor of Teacher Education, California State University, Long Beach
Dean Strachan, PhD Candidate, University of Chicago
Sofya Aptekar, Associate Professor, City University of New York, School of Labor and Urban Studies
Heather Formaini, Psychoanalyst, Lucca, Italy
Vincent Wertz, Professor, Université catholique de Louvain
Katie Gentile, Professor of Interdisciplinary Studies, John Jay College of Criminal Justice, City University of New York
Darryl E. Brock, PhD
Dagmar Herzog, Professor of History, Graduate Center, City University of New York
Peter Beinart, Professor, City University of New York
Kathryn Russell, Professor Emerita, State University of New York Cortland
Katharine Baker, PhD, Bowen Center for the Study of the Family
Patrick Italiano, Researcher, University of Liege
Victoria Sanford, Lehman Professor of Excellence, Lehman College and the City University of New York Graduate Center
Jillian Rogin, Associate Professor, University of Windsor
Aaron Kreuter, Assistant Professor, Trent University
Daniel Bertrand Monk, Professor, Colgate University
Jason Appt, Instructor, Naropa University
Jess Salomon, Comedian
Francesca Zorzetto, Journalist & Blogger
Elissa Bemporad, Professor of East European Jewish History and the Holocaust, City University of New York
Francesca Gorgoni, Post-Doctoral, Inalco University, France
Freddie Rokem, Professor Emeritus, Tel Aviv University
Karsten Struhl, Adjunct Professor, New School for Public Engagement
Steven Beller, Historian, Washington DC
Molly Schiffer, PhD Student, Northwestern University
Tom Weiner, retired 6th grade teacher, Smith College Campus School
A. Joseph Layon, MD, Professor of Anesthesiology, University of Central Florida, Orlando
Helen Raizen, co-chair, Israel Palestine Committee, Boston Workers Circle
H. Patricia Hynes, Professor of Environmental Health and Justice, Boston University School of Public Health (retired)
Joel Weisberg, Stark Professor Emeritus, Carleton College
Carolyn Toll Oppenheim, Journalism Professor, Emerson College (retired)
Kendall Gardner, PhD, University of Oxford
Gabriele Hourticolon, Johns Hopkins University Libraries
Lila Corwin Berman, Professor of History and Murray Friedman Chair of American Jewish History, Temple University
Sid Shniad, founding member, Independent Jewish Voices Canada
Sam Shonkoff, Assistant Professor of Jewish Studies, Graduate Theological Union
Linda Gordon, University Professor of History and the Humanities, New York University
Marjorie Feld, Professor of History, Babson College
Nir Shavit, Professor of Electrical Engineering and Computer Science, Massachusetts Institute of Technology
Joan W. Scott, Professor Emerita, Institute for Advanced Study, Princeton, New Jersey
Lynn Gottlieb, Rabbi
Claudio Treves, Former Trade Union Official
Dana Brooks, Professor Emeritus, Northeastern University
Saeb Rawashdeh, Editor of The Jordan Times
Avishai Ehrlich, Professor, The Academic College Tel Aviv-Yaffo
Carole Turbin, Professor, State University of New York (retired)
Rhea Tregebov, Associate Professor Emerita, University of British Columbia
Lynne Layton, Psychoanalyst, Massachusetts Institute for Psychoanalysis
Rowland Selame, PhD
Noa Shaindlinger, Assistant Professor, Worcester State University
Robert Boikess, Professor of Chemistry, Rutgers University
Rafat Sub Laban, Human Rights Defender from occupied East Jerusalem
Dr. Moncef Kallala, Lecturer, Hawaii Pacific University (retired)
Daniel Levy, President, U.S./Middle East Project
Emilio Sacerdoti, IMF senior staff member (retired), World Bank consultant
Jerry Merose, Professor Emeritus, Hamburg University of Applied Sciences
Joel Hecker, Professor, Reconstructionist Rabbinical College
Warren Goldstein, Professor Emeritus History, University of Hartford
Matthew Teller, journalist and author
Sahar Aziz, Distinguished Professor of Law, Rutgers University
Judy Andler J.D.
Fred Block, Research Professor, UC Davis
Liat Kozma, Associate Professor, Department of Islamic and Middle East Studies, The Hebrew University of Jerusalem
Carole Joffe, Professor Emerita of Sociology, UC Davis
Rachel Feldman, Assistant Professor of Religion, Dartmouth College
Mateo Alaluf, Professor, Free University of Brussels
Stephen Soldz, Professor, Boston Graduate School of Psychoanalysis
Ronnie Lesser, PhD, Psychologist
Seth Sanders, Professor, Religious Studies Department and Jewish Studies Program, UC Davis
Diane B. Paul, Professor Emerita, University of Massachusetts Boston
Sven-Erik Rose, Associate Professor, UC Davis
Maurice Pasternak, Professer, Ecole nationale supérieure des arts visuels de La Cambre (retired)
Jane Kenner, Member, Psychoanalytic Institute of Northern California (retired)
Roberta De Monticelli, Professor, San Raffaele University, Milan and Geneva University
Barbara S. Kane, Psychoanalyst
Andrew Samuels, Professor and Former Chair, UK Council for Psychotherapy
Stephen Portuges, PhD Psychoanalyst, New Center for Psychoanalysis
Ruth Marshall, Associate Professor of Political Science/Study of Religion, University of Toronto
Susan Herman, NYU Postdoctoral Program
Rosalind Petchesky, Distinguished Professor Emerita, Hunter College and the Graduate Center, City University of New York
Kobi Kabalek, Assistant Professor, Penn State University
Kenneth Miller, Professor of Neuroscience, Columbia University
Barbara Eisold, PhD, New York University
Eyal Rozmarin, Psychologist and Psychoanalyst
Brooke Lober, PhD, University of California, Berkeley
Marla Stone, Professor of History, Occidental College
Lawrence Moss, former Distinguished Lecturer and Rita E. Hauser Director of the Human Rights Program, Roosevelt House Public Policy Institute at Hunter College, City University of New York
Virgil Mathiowetz, Board Member, Middle East Peace Now
Yehuda Aharon, Postgraduate Student, University of Western Sydney
Marci Shore, Associate Professor of History, Yale University
Frank Emspak, Professor Emeritus, School for Workers, University of Wisconsin, Madison
Lawrence Rosenwald, Professor Emeritus of English, Wellesley College
Monica L. Meerbaum, PhD, Clinical Psychologist/Psychoanalyst
Cathy Lisa Schneider, Professor, American University
Ofra Bloch, Psychoanalyst
Miriam Rürup, Director of Moses Mendelssohn Center, Professor, University of Potsdam
Peter Klein, PhD
Judy Somberg, Retired Attorney
Miko Zeldes-Roth, PhD Student, University of Toronto
Donald W. Wood, Lecturer, Oklahoma State University
Marika Sosnowski, Research Fellow, Melbourne Law School
Juan Cole, Collegiate Professor, University of Michigan
Alon Friedman, Professor, Dalhousie University
Riaz Tejani, Associate Professor, University of Redlands
Susan Gutwill, Faculty, Women's Therapy Centre Institute and Center for the Study of Psychotherapy and Psychoanalysis of New Jersey
Cheryl Pearlman, Psychotherapist
Syvanne Avitzur, Public and International Affairs MA Candidate, University of Ottawa
Lawrence Blum, Professor, University of Massachusetts Boston
Adrienne Harris, Psychoanalyst
David L. Mandel, Human Rights Attorney
Erica Schoenberg, PhD, Psychoanalyst
Philip Joseph, Associate Professor of English, University of Colorado Denver
Dr. Steven Wagner, Senior Lecturer in International Security, Brunel University London
Stanley Habib, Professor Emeritus, City University of New York
Alexander Yonkel Perelson, PhD Student, Binghamton University
Jaap Hamburger, Chairman, A Different Jewish Voice, Amsterdam
Einav Rabinovitch-Fox, Lecturer of History, Case Western Reserve University
Linda Arkin, Licensed clinical social worker
Jason Stanley, Jacob Urowsky Professor of Philosophy, Yale University
Gina Glasman, Lecturer of Judaic Studies, State University of New York Binghamton
Kathryn Levy, Poet
Denni Liebowitz, Psychoanalyst and Clinical Social Worker, Psychoanalytic Institute of Northern California
Michael Dahan, Senior Lecturer, Sapir College
Marilynn Gillies, Nursing Teacher (retired)
Steven Reisner, PhD Psychoanalyst
Oded Erez, Assistant Professor, Hebrew University of Jerusalem
Avraham Milgram, Former Historian, Yad Vashem, Jerusalem
Gershon Baskin, PhD, Founder, Israel/Palestine Center for Research and Information
Nancy Hollander, Member and Faculty, Psychoanalytic Institute of Northern California
Renata Segre, Independent historian
Mor Geller, PhD Student, Hebrew University of Jerusalem
Larry Stillman, Adjunct Senior Research Fellow, Monash University
Adina Stern, Center for Research on Antisemitism, Technical University Berlin
Benjamin Arbel, Professor Emeritus, Tel Aviv University
Jawed Siddiqi, Emeritus Professor, Sheffield Hallam
Ameen Abu-Hanna, Professor, University of Amsterdam
Claude Veraart, Professor Emeritus, Université Catholique de Louvain
Assaf David, The Van Leer Jerusalem Institute and The Forum for Regional Thinking
Umayya Abu-Hanna, Author
Talma Bar-Din, Feminist Activist
Thaera Shadid, Project Coordinator, PLO
A. Archie Wolfman, Doctoral Researcher, Queen Mary University of London
Dania Thomas, Lecturer, University of Glasgow
Corey Balsam, National Coordinator, Independent Jewish Voices Canada
Shakhar Rahav, Senior Lecturer, University of Haifa
Nadira Omarjee, Research Fellow, Vrije Universiteit Amsterdam
Ides Nicaise, Professor Emeritus, KU Leuven
Frank Roels MD, Professor Emeritus, Ghent University
Frans Daems, Professor Emeritus of Dutch Linguistics, University of Antwerp
Bronwen Morgan, Professor of Law, University of New South Wales Sydney
Susan Bernofsky, Professor, Columbia University
Willie Van Peer, Full Professor, University of Munich
Alain Schmitt, Doctor (retired)
Gal Levy, Senior teaching faculty, The Open University of Israel
Karel Arnaut, Associate Professor, KU Leuven
Raphael Van Laere, Royal Academy for Archaeology of Belgium
Gill Knight, Unite Community Officer Sussex Coast Branch
Timothy Snyder, Levin Professor of History and Public Affairs, Yale University
Giorgio Gomel, President, Alliance for Middle East Peace, Europe
Sandra Fox, Visiting Assistant Professor, New York University
Marc David, Professor Emeritus, Universiteit Antwerpen
Stefanie Schüler-Springorum, Director, Center for Research on Antisemitism
Ali Hariri, Therapist
Dalal Iriqat, Assistant Professor, Arab American University Palestine
Dana Ron Goldreich, Professor, Tel Aviv University
Esther Cohen, Professor Emerita, The Hebrew University of Jerusalem
Lieve Franssen, Music Pedagogue, High School of Teachers, Brussels (retired)
E. Natalie Rothman, Professor, University of Toronto
Oded Goldreich, Professor, Weizmann Institute of Science, Israel
Giovanni Picker, PhD, Lecturer, University of Glasgow
Jay Yair Brodbar, PhD, former ED, New Israel Fund of Canada, Mazon Canada
Herman De Ley, Professor Emeritus, Ghent University, Berline
Yali Hashash, PhD
Matthew Girson, Professor, DePaul University
Evan Goldstein, PhD Candidate, Yale University
Ian Mutchnick, MD, MS, Assistant Professor Pediatric Neurosurgery, University of Louisville and Norton Neuroscience Institute
Joshua Fogel, Professor of History, York University
Annick Suzor-Weiner, Professor Emeritus, Univerrsité Paris-Saclay, France
Anna Zalik, Associate Professor, York University, Canada
Henrique Samet, Adjunct Professor, Universidade Federal do Rio de Janeiro
Laura Kogel, Psychotherapist, Faculty, Women's Therapy Centre Institute
Eric Corijn, Professor, Free Universty, Brussels
David Cannon, Chair, Jewish Network for Palestine, United Kingdom
Wayne Lencer, Professor of Pediatrics, Harvard Medical School
Zohar Alon, Middle School Teacher, Amos Oz Tel Aviv
Caren Shapiro, LCSW, MFS
Deborah Dash Moore, Frederick G.L. Huetwell Professor of History and Judaic Studies, University of Michigan
Russell Vandenbroucke, Professor, University of Louisville
Janet Gyatso, Academic Dean, Harvard Divinity School
Bertram Silverman, Professor Emeritus, Hofstra University
Marie-France Silver, Professor, York University
Elio Luiz Mauer, Universidade Federal do Paraná (retired)
Fania Fridman, Professor, Universidade Federal do Rio de Janeiro
Zohar Segev, Professor, University of Haifa
Yoel Lubell, Professor, Nuffiled Department of Medicine, Unversity of Oxford
Lynne Smith, Director, New Village Press
Evelyne Reberg, Children's Book Author
Naama Brenner, Professor, Technion – Israel Institute of Technology
Shira Li Bartov, Journalist
Beverly Voloshin, Professor Emerita, San Francisco State University; Visiting Professor, Al-Quds Bard College
Lawrence Brown, Fellow Emeritus, Faculty, William Alanson White Institute
Peter Chidiac, Professor, University of Western Ontario
Brian Kasher, Curator, Images of Global Peace
Kathryn Kish Sklar, Distinguished Professor of History, Emerita, State University of New York Binghamton
Ari Ariel, Associate Professor of Instruction, University of Iowa
Tom Zoellner, Professor of English, Chapman University
Michael Kagan, Professor of Law, University of Nevada, Las Vegas
Paulina Roitman, Psychologist
Arthur Silver, Associate Professor, History, University of Toronto (retired)
Samuel Wiener, MD
Claudio Rotenberg, Psychoanalyst
Gershon Shafir, Distinguished Professor, University of California, San Diego
Ruth Rosen, Professor Emerita, University of California Davis
James Berger, Senior Lecturer, Yale University
Annapurna Menon, Teaching Associate, University of Sheffield
Amir Theilhaber, Post-Doc, Bielefeld University
Steven Delue, Professor Emeritus of Political Science, Miami University
Keith Kahn-Harris, Senior Lecturer, Leo Baeck College, London
H. Homedan, MD
Gilad Isaacs, Executive Director, Institute for Economic Justice, University of the Witwatersrand
Judith Smith, Professor Emerita of American Studies, University of Massachusetts Boston
Aviel Verbruggen, Professor Emeritus, University of Antwerp
Erez Braun, Professor, Technion – Israel Institute of Technology
Claire Kahane, Professor Emerita, University at Buffalo
Daphna Baram, PhD Researcher, Lancaster University
Jonathan Portes, Professor of Economics and Public Policy, King's College London
Naomi Scheman, Professor Emerita of Philosophy, University of Minnesota
Debra Morrow, PhD, Psychologist
Shimon Marom, Professor, Technion – Israel Institute of Technology
Reine Meylaerts, Full Professor, Katholieke Universiteit Leuven
Rachel Aisengart, Associate Professor, Federal University of Rio de Janeiro
Daniel Disegni, Lecturer, Ben-Gurion University of the Negev
Robin Margo, Former President, NSW Jewish Board of Deputies; NIF Australia
Diana B. Greenwald, Assistant Professor, City College of New York
Michael Barnett, University Professor of international Affairs and Political Science, George Washington University
Patricia Willson, Université de Liège, Universidad de Buenos Aires
Dan Fischer, Jewish Educator, Sinai Synagogue
Huw Price, Emeritus Bertrand Russell Professor, University of Cambridge
Brett Kaplan, Professor, University of Illinois
Smadar Ben-Natan, PhD
Thomas Cox, Brooklyn For Peace
Leslie Eastman, Senior Lecturer, Royal Melbourne Institute of Technology University
Stephen Benson, Member, Psychologists for Social Responsibility
Angela Godfrey-Goldstein, Co-director, Jahalin Solidarity
Walda Katzfishman, Professor, Howard University (retired)
Nina Allen, Senior Lecturer, Suffolk University (retired)
Karl Klare, Matthews Distinguished Professor, Northeastern University School of Law
Jasmin Habib, Professor, Political Science & Anthropology, University of Waterloo
Rebecca L. Stein, Professor of Cultural Anthropology, Duke University
Larry Goldsmith, Professor of English Letters, Universidad Nacional Autónoma de México
Sam Friedman, Research Professor, New York University Grossman School of Medicine
Barak Mendelsohn, Professor, Haverford College
Rachel Levitsky, Professor, Pratt Institute
Marion Lipshutz, MA, MSLIS
Jennifer Selwyn, Adjunct Associate Professor of History, Portland State University
Judith Plaskow, Professor Emerita, Manhattan College
Jessica Cohen, Independent Translator, Denver
Renée Steinhagen, Public Interest Attorney
Karen Dias, Psychologist, San Francisco
Marguerite Feitlowitz, Professor Emerita, Bennington College
Michele Landsberg, Columnist (retired)
Alice Shaw, Psychoanalyst/Psychologist, Faculty, Psychoanalytic Institute of Northern California
Beatriz Radunsky, Programmer in the Performing Arts Area
David Zyngier, Associate Professor, Southern Cross University, Australia
Bradley Burston, Journalist
Diane Arnson Svarlien, Translator
José Hamra Sassón, Babelica Program Coordinator, Instituto de Estudios Críticos
Paul Blain Levy, Reader, University of Birmingham
Peter Slezak, Honorary Associate Professor, University of New South Wales
Letty Cottin Pogrebin, Writer and Activist
Aidan McQuade, PhD, Writer
Ron Meir, Professor, Technion – Israel Institute of Technology
Ahmed Abbes, Director of Research, Institut des Hautes Études Scientifiques
Daniel Boyarin, Taubman Professor of Talmudic Culture Emeritus, UC Berkeley
Martin Kemp, Psychoanalyst
Ferruccio Martinelli, Operations Manager, Bocconi University
Christine Schmidt, Licensed clinical social worker, CGP
Rev. Lilian Patey
Colin Purkey, Physics Lecturer, College of North West London
Camilla Wasserman, Senior Research Specialist, Karolinska Institutet
Jean-Marc Lévy-Leblond, Professor Emeritus, Université de Nice
Jerise Fogel, Adjunct Professor, Montclair State University
Heather L Munro, Lecturer in Social Anthropology, King's College London
Andrea Balduzzi, Researcher, Genoa University, Italy (retired)
Mohammad Fadel, Professor, University of Toronto
Sara Thabit, Associate Researcher, Tallinn University of Technology
Cheryl Qamar, Licensed clinical social worker
Bruno Contini, Professor Emeritus, University of Torino
MP Fristot, Teacher (retired)
Hassan Jijakli, Professor, Université Libre de Bruxelles
Lawrence Moss, Professor, Indiana University
Isabel Casimiro, Associate Professor, Eduardo Mondlane University
Alon Liel, PhD, Ambassador (retired)
Raya Cohen, Lecturer, Department of Jewish History, Tel Aviv University; Department of Sociology, University of Naples Federico II (retired)
Hila Milo Rasouly, Assistant Professor, Columbia University
Rafael Araya Masry, President, Confederación Palestina Latinoamericana y del Caribe
David Bartram, Sociologist, University of Leicester
Ifat Levy, Professor, Yale University
Jacqueline Goldman, Program Director, Brown University
Ilan Baruch, Ambassador (Retired), Chair, Policy Working Group
Michel Ouaknine, Semiconductor Specialist and Peace Activist
Jethro Eisenstein, Board Chair, JVP Boston Chapter
Amanda Minervini, Assistant Professor, Colorado College
Uri Schreter, PhD Candidate, Harvard University
Rosalind Edwards, Professor, University of Southampton
Lex Takkenberg, Senior Advisor on the Question of Palestine, Arab Renaissance for Democracy and Development
Roy Bar Sadeh, Postdoctoral Fellow, Free University of Berlin
Gilad Kenan, PhD Candidate, Tel Aviv University
Richard Friend, Associate Professor, University of York
Anna Berg, Educator (Retired)
Thomas Suárez, Independent Researcher, Volinist and Composer
Rania Madi, UN and EU Consultant
John Judis, Author
Liem Berman, MSW, Smith School for Social Work
Doug Rossinow, Professor of History, Metro State University
Nasri Khoury, Neurosurgeon
Robert Herbst, Board Co-Chair, Israeli Committee Against Home Demolitions – USA
Andrew Bush, Professor of Hispanic Studies and Jewish Studies, Vassar College
Rabbi James Ponet, Howard M. Holtzmann Jewish Chaplain Emeritus, Yale University
Jonathan Lebolt, Faculty, Center for the Study of Psychotherapy and Psychoanalysis of New Jersey
Haynes Miller, Professor Emeritus, Massachusetts Institute of Technology
Roni Mikel-Arieli, Academic Director of the Oral History Division, Hebrew University of Jerusalem
Natasha Zaretsky, Professor of History, University of Alabama at Birmingham
Ross Brann, Professor of Near Eastern Studies, Cornell University
Steven M. Wasserstrom, Moe and Izetta Tonkin Professor of Judaic Studies and the Humanities, Reed College
Stephen Naman, President, American Council for Judaism, Inc.
Elana Ponet, Former Director at Hillel Children's School, Yale University
Adam Ganz, Professor, Royal Holloway, University of London
Pauline M. Coffman, Director, School of Adult Learning, North Park University (Retired)
Jamal Kanj, Writer
Alisse Waterston, Presidential Scholar and Professor, City University of New York, John Jay College
Michal Huss, Postdoctoral Fellow, Minerva Center for Human Rights, Hebrew University of Jerusalem
Jacob Bender, Creative Director, Council on American-Islamic Relations – Philadelphia
Limor Yehuda, Lecturer, Hebrew University of Jerusalem
Nitzan Lubianiker, Postdoctoral Associate, Yale University
Pour tout contact avec les promoteurs de l'appel : Dr. Lior Sternfeld lbs18@psu.edu
Source : https://sites.google.com/view/israel-elephant-in-the-room/home
CAPJPO-EuroPalestine